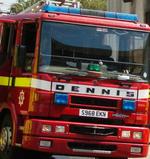 Firefighters used breathing apparatus to tackle a house fire in Folkestone on Sunday morning.
Two crews were called to The Stade at 11.35am where fire had taken hold in a bedroom of the single-storey house.
Smoke was cleared from the property using specialised ventilation equipment. It's not thought anyone was injured in the incident.