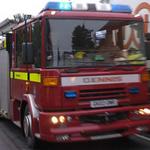 Firefighters have warned of the dangers of driving into a petrol forecourt when your car is on fire.
It came after a blazing Renault pulled into the Co-op petrol station on the A2, Watling Street, at 8.30pm yesterday.
A spokesman for Kent Fire and Rescue said the man made the 'sudden decision' to drive into the forecourt and park after noticing flames coming from his car.
Firefighters spent an hour putting out the blaze and carrying out safety checks at the garage.
The spokesman added: "If you realise that your car might be alight when you are driving, pull over at the first available opportunity, but try to avoid exposing other people to risk."
No one was injured in the incident.