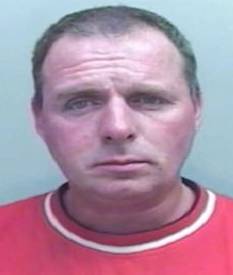 A God-hating psychopathic drifter found holed up in Folkestone has today been convicted of murdering a vicar and a retired teacher - and jailed for life.
Cruel Stephen Farrow, 48, was discovered hiding at a house in Black Bull Road after a major manhunt was launched.
The 48-year-old had an "aggressive attitude" towards the church and previously travelled to Canterbury in an attempt to murder the Archbishop, but security was too strong.
Homeless Farrow (pictured left) battered retired teacher Betty Yates, 77, with her own walking stick before fatally stabbing her four times in her face and neck.
He later stabbed the Reverend John Suddards, 59, to death in his vicarage - before covering his body in gay porn DVDs, streamers and condoms.
Farrow had also planned to crucify the vicar, but left a bag containing the hammer and nails.
He was discovered by officers from Kent Police in the end-of-terrace Folkestone house - almost 180 miles away - five days later on Sunday, February 19.
It came after a woman he was staying with saw he was "wanted" by police and dialled 999.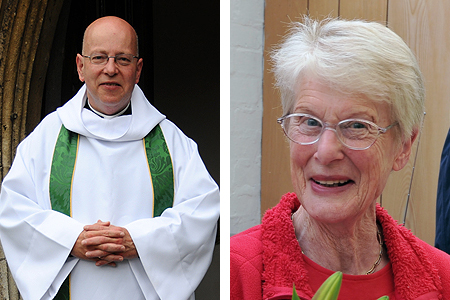 Before starting his killing spree, 6ft 4ins Farrow broke into a cottage in Thornbury, Gloucestershire, while the homeowners were on holiday over the festive period last year.
He left a note - pinned to their kitchen table with two knives - reading: "Be thankful you did not come back or we would have killed you Christian scum. I f****** hate God."
Farrow admitted the burglary and the manslaughter of Reverend Suddards on the grounds of diminished responsibility, but denied fatally stabbing Mrs Yates.
Following a three-week trial, a jury at Bristol Crown Court convicted him of the double murders and he was sentenced to a whole-life tariff in prison.
The judge, Mr Justice Field, said: "The Reverend told you he would die and you repeated 'f****** die then, hurry up and die'.
"You watched him die as life seeped out of him in the next three minutes.
"You then ransacked and placed a number of highly personal items around him. I am quite sure you did that to humiliate the reverend and desecrate his memory.
"I am quite sure you realised you would humiliate his family and the parishioners and congregation of the church.
"In each of these dreadful horrific killings you acted sadistically to put a knife deep into the body of Betty Yates as she lay helpless on the floor.
"You then arranged her head on the pillow, which was an act of obvious sadism. You did that because you wanted to, she was not threatening you.
"In my view there is no question in this case of the imposition of a minimum term."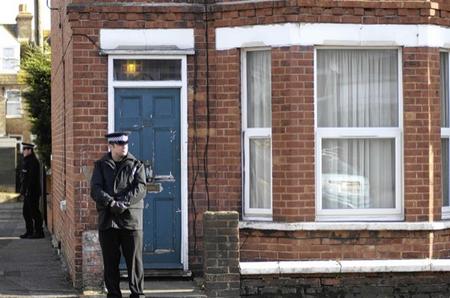 Bristol Crown Court heard how Farrow broke into Vine Cottage over Christmas last year, ransacking the property and leaving the chilling note on the kitchen table.
He was linked to the property by DNA evidence, as well as imprints from one of his walking boots.
Farrow, of no fixed address, then travelled to Bewdley, Worcestershire, and entered the remote riverside home of widow Betty Yates, a mother-of-two, in January.
He attacked Mrs Yates with her own walking stick, battering her to the ground before plunging a knife into her face and neck four times - leaving it sticking out of a wound.
Farrow then tidied her home, arranging a chair across her body so that it would not be viewed from windows outside.
His footprint was later found on Betty's exercise mat - but he claimed he had simply visited the pensioner in the days before her death and had not killed her.
A month later, keen fisherman Farrow arrived in Thornbury, South Gloucestershire, and killed Reverend John Suddards, vicar of St Mary's Church.
"in each of these dreadful horrific killings you acted sadistically to put a knife deep into the body of betty yates as she lay helpless on the floor..." – mr justice field
He knocked on the vicar's door and attacked him with a kitchen knife in his face and neck after the Reverend Suddards did not deny abusing him.
Farrow previously told friends he had been abused by a priest as a child - but there is no suggestion he had any sexual relations with the Reverend Suddards.
After murdering the vicar, Farrow ransacked his home to find items to arrange in a grim tableau.
Reverend Suddards was left facing a mirrored reflection of Christ and covered in party poppers, while a Bible open at the pages of Letter of Jude was open on his chest.
Farrow also left a calendar - open at the picture of a male figure - on the vicar's crotch. Explicit homosexual DVDs, underwear, condoms and metals rings were by his body.
Michael Fitton QC, prosecuting, said the items had been taken from the vicarage.
Farrow then spent the night at the vicarage, watching an Indiana Jones DVD and sipping beer in the lounge and covering the windows of the property.
He also stole the vicar's mobile phone and used it to send a text reading: "RIP Mr Suddards. Pervert" to a number on his contacts list.
Farrow was assessed by mental health teams and claimed he had been diagnosed with a long-standing mental disorder.
His defence argued that this "substantially affected" his ability to exercise self control, but psychiatrists said being a psychopath would not affect his ability to understand his conduct.