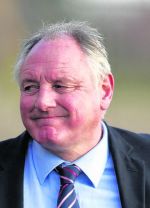 by Steve Tervet
Folkestone manager Neil Cugley hailed Johan Ter Horst as a natural goalscorer after the teenager starred in the big Kent derby against Maidstone.
The 17-year-old was making only his third start in senior football and he seized his big chance by scoring twice in front of a bumper crowd at Cheriton Road.
The striker was a surprise inclusion ahead of Josh Burchell, having not started for Folkestone since their Boxing Day defeat at Hythe.
However, he repaid the faith shown in him by his manager, stunning the leaders with a goal in each half of the 2-2 draw.
Cugley (pictured) said: "He showed he can do it in the big games, which is a nice feeling for him.
"It wasn't just his goals, it was the way he took the goals – they were quality finishes.
"He's a good player. It was always going to be a matter of time before he was put in the team. He's had a couple of games and he found it tough at that age.
"He's a natural goalscorer and I felt the time was right for him to come back in. He's not just a lad with pace, he's a lad with a good soccer brain.
"You don't get too excited but I've watched him play in the youth team and he's got a lot of ability."