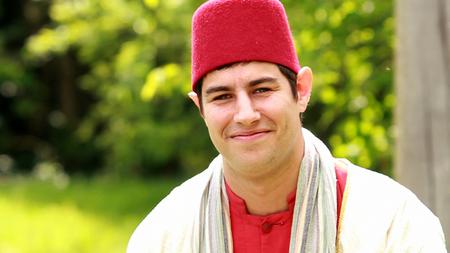 It wouldn't be summer without the Changeling Theatre's open-air Shakespearean production, this time The Comedy of Errors. Its star Jake Hendriks talked about making the jump from the safety of TV to theatre.
A sunny day in the Kent countryside and former Hollyoaks star Jake Hendriks is striking amusing poses wearing a fez and long, flowing, north African robes.
This bizarre sight is part of a photo shoot to promote The Comedy of Errors, this summer's open-air Shakespeare tour by the Hazlitt Arts Centre and The Changeling. It is taking a bit longer than it should because leading man Jake's clowning has left his fellow actors and the photographer in stitches. It is not easy to take a photo when you're laughing.
Best known for playing the role of gay catholic priest Father Kieron Hobbs in Hollyoaks, 30-year-old Jake's character died in dramatic style after being poisoned by his lover's brother.
Fans around the UK went into mourning. There were even pages set up on Facebook calling for the character to be reinstated. But this summer, Jake will appease audiences in Kent by playing not one, but two roles.
He'll be Antipholus of Syracuse as well as his twin brother Antipholus of Ephesus in what's been described as Shakespeare's most farcical and funniest comedy, rich in slapstick and humour derived from mistaken identity.
"It's going to be very different to some of the roles I've done before," said Jake. "It's certainly going to be quite a departure from Father Kieran."
"It's not just the change from soap opera to Shakespeare, it's also the change from TV to theatre.
"I think the biggest difference is telling a story all in one go, from the beginning to the end and taking the audience with you on a journey.
"On TV it feels like you're rehearsing all the time. It feels like there's no performance at the end of it. You just do little things over and over again from different angles until the director tells you to stop. From an actor's point of view, that means there isn't the sense of achievement you get with live performance.
"Live theatre is very different. You have only yourself and the other members of the cast to rely on. On TV, there's a huge number of people there in the studio with you.
"This is live, this is in front of an audience and there's no safety net. That's what creates the buzz, the danger, the excitement. That's the reason theatre has so much to offer and why it can't be bettered as a spectacle."
Jake is no stranger to Shakespeare. He has played the lead in Macbeth and appeared in plays including Romeo and Juliet. He is no stranger to Kent either, having lived in Tunbridge Wells.
"I'm really looking forward to the summer," said Jake.
"We're playing some of the most beautiful open-air locations in Kent and the show is going to be extremely funny.
"I also get a chance to sing and dance, which is something I didn't get a chance to do in Hollyoaks."
The venues
The Comedy of Errors tours Kent from Thursday, June 30, to Sunday, August 7. See it at:
The Salutation, Sandwich, Thursday, June 30
Sutton Valence Preparatory School, Maidstone, Friday, July 1
Godinton House, near Ashford, Saturday, July 2
Dandelion Time, West Farleigh, Maidstone, Sunday, July 3
Amphitheatre, Maidstone, Tuesday, July 5
Spa Hotel, Tunbridge Wells, Wednesday, July 6
Great Comp Garden, near Wrotham, Thursday, July 7
The Friars at Aylesford, Friday, July 8
Yalding Gardens, Saturday, July 9
Upnor Castle, near Rochester, Tuesday, July 12 and Wednesday, July 13
Boughton Monchelsea Place, Maidstone, Friday, July 15 to Sunday, July 17 and Friday, August 5 to Sunday, August 7
Rochester Castle Gardens, Wednesday, July 20
Fort Amherst, Chatham, Thursday, July 21
Chiddingstone Castle, Tonbridge, Sunday, July 24
Charlton Place, near Canterbury, Tuesday, July 26
Nursted Court Meopham, Wednesday, July 27 and Wednesday, August 3
Eastwell Manor, near Ashford, Thursday, July 28
Belmont House, near Faversham, Friday, July 29
Vale House, Loose, Saturday, July 30
Nimrod Farm, Biddenden, Tuesday, August 2
Smallhythe Place, Tenterden, Thursday, August 4