Raid gang: top from left, Danny Stevenson and Adam Green, bottom from left, Jamie Rustage, Frank Harris and James Clark
A gang of hooded thieves who broke into homes at night and stole cars parked outside has been locked up for a total of 24-and-a-half years.
A judge described the targeting of property in Medway, Maidstone and Swale as "grave organised crime".
When one of the burglars, Danny Stevenson, was arrested photos on his mobile phone showed him hooded and proudly posing with bolt cutters and a crowbar.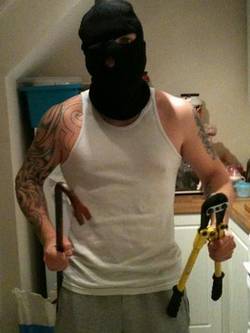 Describing the images shown to Judge Philip Statman as graphic, his lawyer John Fitzgerald said: "It is posturing, He thinks it is big and clever. There is no evidence he went into people's houses like that."
Stevenson, of Bettescombe Road, Gillingham, Jamie Rustage, of Beatty Avenue, Gillingham, James Clark, Adam Green, both of Hards Town, Chatham, and Frank Harris, of Swift Crescent, Chatham, all admitted conspiracy to burgle.
Charlie Bushell, of Kingston Crescent, Chatham, admitted attempted burglary.
Stevenson, 27, and Green, 24, were jailed for six years, Rustage, 21, was jailed for four years, Harris, 19, was sentenced to four years youth custody, Clark, 21, to three years four months jail and Bushell, 21, to 14 months.
Kent Police have not released an image of Bushell.
Judge Statman told them: "It is trite to observe that fear is engendered when a burglary occurs at night in domestic dwellings. There is an invasion of the home by the burglar."
Maidstone Crown Court heard 40 burglaries or attempted burglaries were committed and 26 cars and one motorcycle were stolen in four months between September 18 last year and January 7.
Vivian Walters, prosecuting, said householders were asleep in most cases and one victim awoke to find hooded Green standing over him. One car stolen contained children's Christmas presents.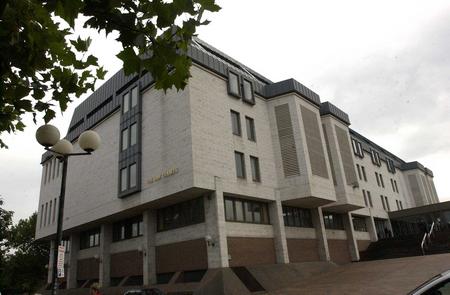 Stevenson admitted being involved in seven burglaries, Clark three, Green 13, Harris eight, Rustage five and Bushell one attempted burglary.
Homes were raided in Chafes Lane and Forge Lane, Upchurch, Kingston Crescent, Lordswood, Macklands Way, Glebe Road, Park Avenue, Quinell Street and Skinner Street, Gillingham, The Everglades and Hadleigh Court, Hempstead, Whitehouse Close, Hoo, Dorrit Way, Rochester, Mill Lane, Hartlip, Hurst Hill, Walderslade, Woodbury Road, Kingfisher Drive, Croft Close and Spitfire Close, Chatham, Oak Drive, Larkfield, Elmwood Road, Chattenden, and Brown Street and Ten Acre Way, Rainham.
Miss Walters said Harris was responsible for the theft £150,000 worth of cars, Green £80,000, Stevenson £74,450, Rustage £19,000 and Clark £18,000.