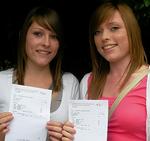 The waiting is over for teenagers across Kent and Medway as they discover their GCSE results today.
Thousands of pupils across the county will be opening their results envelopes in the hope of high-scoring grades.
But they're set for tough times on the jobs market... with more than 34,000 people out of work and claiming the dole in Kent.
Malcolm Scott, a personal advisor for Connexions Kent and Medway, said: "The number of vacancies is not as great as they were perhaps last year or the year before so the impact of the recession is certainly being noticed in Kent and among our young people.
"It is important to make sure students make the best of the qualifications they have achieved today and have a clear plan with several back up options."
Malcolm Scott, a personal advisor for Connexions Kent and Medway, explains the options available for GCSE students after they have received their exam
Update Required
To play the media you will need to either update your browser to a recent version or update your
Flash plugin
.
But the gloomy job prospects have failed to prevent two record-breaking statistics being celebrated at Angley School, Cranbrook where 65 per cent of year 11 pupils gained five or more A* to C passes and a third of the year group - 56 students - achieved 10 or more high grades.
Individual success stories included Laura Hare (three A* and six A grades), Jordan Balsamo (six A* and five A grades), Marah Naylor and Alexandra Holley, who both gained 15 A* to C passes, while Charlotte Stone and Alex Burgess achieved 14 A* to C passes.
Early results show record passes at Marlowe Academy in Ramsgate.
Students notched up a 65 per cent pass rate in five GCSEs grades A to C - that is a 13 per cent improvement on last year, and 26 per cent up on 2007.
However, the number of students gaining five A to C grades, including English and maths, fell from 13 per cent to 12 per cent.
Principal Ian Johnson said: "It is fantastic that 65 per cent of our students gained five A to Cs in all subjects. Nobody would have believed that we could have achieved that level just four years after the Academy opened.
"However, I am very disappointed we have not improved on last year's results for five subjects including English and maths.
"I expect better from the Marlowe Academy. We have a job to do and I will ensure measures are taken to do it properly."
Meanwhile, on the Isle of Sheppey, Minster College recorded its best-ever results as it prepares to become part of the new Sheppey Academy.
Head teacher Alan Klee says he is delighted that 50 per cent of candidates achieved five or more A*-C grades - six per cent more than last year.
Over in Medway, pupils at the Kings School in Rochester were celebrating.
Teenagers were delighted with their grades, with 22 per cent of them getting A* grades and 46 per cent chalking up A* and A grades.
And 90 per cent of pupils at the school achieved five passes at grade A* to C, which is a huge leap on the national figure of 67.1 per cent.
Dr Ian Walker, headmaster, said: "All these results are a great credit to our pupils' hard work.
"I congratulate them wholeheartedly and thank the staff for their sterling efforts."
In Sittingbourne Borden's Year 11 students were also celebrating. Thomas Cantor achieved 12 A*/A grades, while Kyle Dawney, Oliver Hyde, Daniel Kirkham, Oliver McKean and David Westby achieved 11 A*/A grades. A further 17 boys achieved eight or more A*/A grades.
There were particularly notable subject results in history, mathematics, music, product design, religious studies and statistics where the percentage of A*/A grades ranged from 50 to 80 per cent.
At Tenterden, Homewood School has exceeded last year's GCSE exam results.
Within minutes of the school's sports hall throwing open its doors to students, Homewood reported a provisional figure of almost 70 per cent of students achieving at least five A* to C grades.
For more GCSE news, pictures and reaction from Ashford, Tenterden and the surrounding areas, go to the Kentish Express website>>>
Two Dover students have achieved top results in their GCSEs.
Mark Osmond, from the Dover Grammar School for Boys, gained 13 GCSEs, seven with A star and six with A grades.
And Faye Wiles, from the Dover Grammar School for Girls, passed 10 GCSEs, all with A* or A grades, as well as three AS levels, also with A grades.
That gave her an incredible points score of 912. The average is 556.