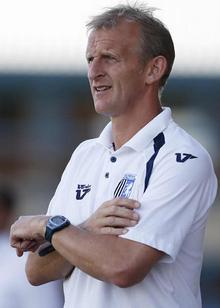 Defeat on Monday wasn't what any of us wanted but we can only look forward now and learn from what we do.
We have been through the process of reviewing the game and we do that, whether we win, lose or draw.
Sometimes people might get carried away and only review things when they don't get a positive result but if we are going to keep progressing like we are, then we need to do that whether we are picking up points or not.
It's another consistency that we have. Regardless of whether it's been a good performance or an indifferent one, we are consistent in our evaluation by going through a process. It is a constant review, not just when we don't get points.
When we've been taking points we haven't been getting carried away and so we won't be after Monday's defeat either. Level-headedness will reap its rewards over the course of the season.
The main thing is that we are still on track for a decent points tally at the end of the season and that's what we set out to achieve at the beginning.
We face Bradford tomorrow (Saturday) and they have got a lot of things going on right now and from a League 2 point of view, they are still fantastically placed. They are playing well, they are a good organised side, with some good individuals and they have a good team ethic as well.
It hasn't happened too often this season but it will be a game where we are going into it as the underdogs.
It's fantastic that Bradford have made it through to the final of the Carling Cup and you only have to look at the people they have played against, it's not as though they have had the luck of the draw.
They have beaten Arsenal, Wigan and Aston Villa so they have earned it and fair play to them. Their manager Phil Parkinson and assistant Steve Parkin are people I know and they are honest guys who work hard. It is good to see people getting their rewards.
Read John Schofield's column in full every week inside the Medway Messenger.