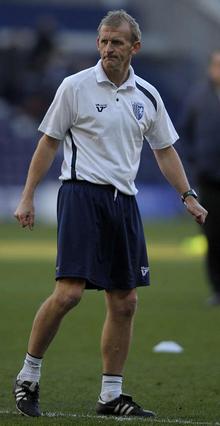 There has been a lot of hype in the build up to this weekend's game against Port Vale but, for me, I get excited about whoever we are playing!
I get that buzz every Saturday and think if you didn't, then you're in the wrong job. Obviously, there is a difference between playing in front of 2,000 fans and 10,000 fans singing and shouting. The volume levels go up and it does make the hairs on the back of your neck go up.
When it happens it is great but we'll be switched on and concentrating on the game and looking how to get one over on our opponents.
We'll be looking at things that they might be trying during the game and there won't be much time to soak up the atmosphere.
In the warm-up, when you first go out, it's great but then that's when the professional side of you comes in and you just blank it out.
We've been working toward the game as normal and will go through our same processes of preparing the team properly, as we have done every time we play and we'll go looking to get a positive result.
Let's not make any bones about it, Port Vale are a good side. With 54 goals, they are top scorers in the league and they have also added to that firepower by signing Lee Hughes and fetched in another centre-back, in Darren Purse. Both are seasoned professionals and they've been there, seen it and done it. It is going to be a massive test for us.