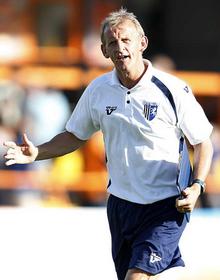 When you are involved in football, this weekend's game is the sort of one that is great to be getting ready for.
It's first against fourth and it's going to be a great game. Rotherham are a top side and they've got some good players.
They've got a big squad up there so we know it's going to be difficult.
We've watched all the highlights and snippets about them so we know their strengths and weaknesses.
Now, as I always say, it's a case of us trying to get at those weaknesses and get on top of the game. It's all about us and we know that if we perform, then we will get the result that we are after.
I've been to their New York Stadium a few times already and I can tell you it's a fantastic ground with a great atmosphere.
I liked their old ground at Millmoor but the Gills fans will certainly notice the difference from when they previously went to the athletics stadium in Sheffield to watch Rotherham play Gillingham in the past few seasons.
Everyone knows that the aim is to get out of this league and we're certainly not getting ahead of ourselves but it was good to have a look at League 1 opposition last Saturday and see how far we've come.
Of course we wanted to stay in the competition as long as we could but we played a side who are doing well and more than held our own. At times, we had the lion's share of the game which is a good indicator.
Read more from John Schofield only in this Friday's Medway Messenger