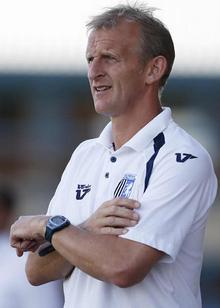 We are disappointed to have lost in midweek but we're not getting too down on ourselves.
Although there was disappointment, there were also parts of the game which we were buzzing on.
What we have said all season is that when we have been winning, we haven't got carried away and now we've had a defeat, it's not nice but we're not getting too low. We're just going to move on to the next game.
We have lost a game but you need to be level because when the phone rings, it can change your life. It can be good or it can be for the worse.
For Chelsea's Roberto Di Matteo this week, it was a phone call for the worse. It is never nice to see anyone lose their job at any level and earlier this year, he led the club to victories in the Champions League and FA Cup. Now he is out of a job.
You have to be a special kind of person to work in football. There are only 92 jobs and 92 assistant managers. We are in a privileged position which every man and his dog wants.
The majority of people watch football and they all know better than we know and that's why it is brilliant – it's the best job in the world!