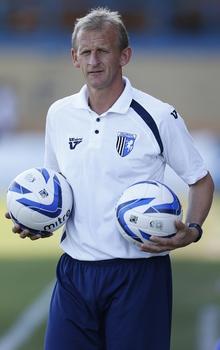 We have seen many different sides to the team during the season and we saw another at Plymouth on Saturday.
What we saw was a side that doesn't get beat, that keeps going right to the end and we got our just rewards with a great point.
We nearly even won it in the end. We showed great character and kept plugging away. It is quite easy to keep going when everyone is on top of their game but it was one of those matches where we had to dig in and everyone did that.
We want to win every game but if we don't, we have to make sure we get something on the board and Saturday was no exception.
Credit to Plymouth, they were playing on the back of a couple of indifferent results and had a right go at us, which a lot of teams will do this year. We have to keep our heads down and keep battling away as we did on Saturday.
Sides are going to set up this way and that way against us but, as I have said before, it doesn't matter what other sides do. It is about what we do.
They can set up how they want but if we perform to the levels we can, with the intensity and the energy and the quality, then we give ourselves the best chance of getting something out of the
game.
Even if after an hour it's 0-0, we need to still be positive and even if it's the same after 80 minutes. We'll keep grinding teams down until we get that result.
Fitness comes into it and we can put as many fitness sessions on all day long but if the lads aren't going to buy into it and commit themselves to the level of intensity that we want, then it doesn't matter.
It will be nice to get in front of the home crowd again this weekend and hopefully we can turn up to an atmosphere that is bubbling.
Read more from John Schofield in this Friday's Medway Messenger, including his thoughts on the latest manager-of-the-month nomination for Martin Allen.