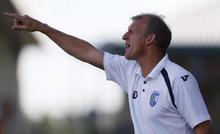 We were disappointed to have lost at Torquay but nothing for us changes.
It's been a fantastic start and now we have to look at the next game, which on Saturday is a trip to AFC Wimbledon.
The good thing is that we are not high as a kite when we win, nor are we 'oh God, we've got beat' when we lose.
We want to win every game, of course, but you have to have a bit of realism about it. We have been realistic and that's going to stand us in good stead.
We have been working hard this week, as we always have done, whether that's on the back of a win, draw, or defeat. We are forever looking to improve and will be maintaining that work ethic.
Our task now is to carry on as we always have done by coming in and preparing for that next game.
Everything we have done at the end of this week has been the same as we had been doing when we were winning games. There will be no changing because we have had a defeat. We have got training programme boxes we tick, week in, week out, and that will stay the same.
Too often in the past players will have said, 'we've got beat, so this and that has changed' but for me, you have to have a long-term goal. Steps to get there are in place in pre-season. Yes, results at times can affect mindsets but you have to have enough faith in your own beliefs. Regardless of what happens, you maintain those principals.
Read the full column in Friday's Medway Messenger