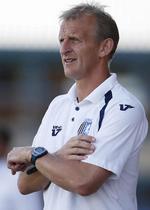 If you were watching last weekend's game, you probably wouldn't have known some of those players were suffering with a stomach bug.
A few of the lads had a bit of it but they are desperate to play and they proved that on Saturday. It's all credit to the players and their mental state. These things do happen unfortunately sometimes but what it does, it focuses you and you might need to concentrate a bit more.
You find that on those days you jump out of bed feeling great you probably don't play as well as you do when you haven't had a good night's sleep because you think 'I feel great, it's just going to happen for me today'.
Not that we are going to try and make them ill every week! When these things happen, we have things in place to ensure players recover as quickly as possible. That is about being organised.
Luckily, I have got a proper Northern stomach, not like these Southerners!
Sometimes this year we have started games bright and on Saturday, against Aldershot, it was no exception.
The first half was great and we looked a threat when we were in possession, as well as when we were out of possession. Every time we won the ball back, we looked like hitting them on the counter-attack.
Myles Weston was on his game and it shows what you can do when you have pace in your side. It is good that we are starting games quickly and it's important that when we are starting games like that, we score the goals.
We went in 3-0 at half-time and the next goal is always big but we started the second half and kept possession.
After being 3-0 up, people probably think you should go and get X amount of goals but the main thing is keeping a clean sheet and if we can add to it then great, which we did.
It will be all about us again this weekend. Yes, of course, we will be looking at Burton. They are a decent side, move the ball well and are organised under Gary Rowett. It is going to be another difficult test but we go into it looking for three points as always.
The news that former Ajax, AC Milan and Barcelona player Edgar Davids had joined Barnet as a player-coach caused a stir last week.
I'm not sure qualification-wise what he has got, it's probably not for us to comment what happens at other clubs, but there seems to be a few there at the minute.
Robbo (Mark Robson) is still there (as manager) and he has got an assistant. I read that Davids is bringing an assistant in as well.
But, as we've said before, each club to their own. There is no right or wrong way. So if they think it can work, good luck to them.