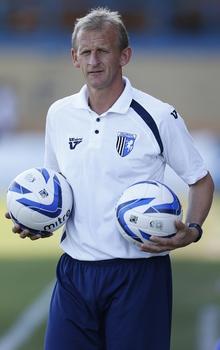 People on the outside looking in can get obsessed with complicated formations and tactics but we've kept things simple.
No matter what formation, tactics or game-plan you use, the basics of football are still the same. If you pass the ball and keep the ball well, you dictate the tempo of the game.
The simple thing is to play the way you face and then lose your marker. Give the player a couple of options and move. It is as basic as that.
When you move, it's about the pace and intensity that you move at and likewise when you have the ball.
What we've been doing in training is getting the ball and playing quickly and concentrating on the basics. That's what we've incorporated since day one.
When it comes off it looks more complicated because we look so good but when we are moving the ball around that's all it is, we are playing the way we are facing.
It's about movement off the ball and the athleticism we have got now that takes us forward. Every day we base ourselves on the same principles but every day is like a new chapter. It's fantastic working with these players.
It is working at the moment and you can see with the smiles on the players' faces that they are enjoying themselves. The atmosphere around the club is fantastic.
There is a lot of laughter and a lot of noise. The gaffer always says that if you open the patio doors at home and the birds are chirping, then everything is good in the garden. It's similar to when the lads are warming up.
It's unbelievable how the noise levels build up as the players are warming up. The garden is looking well because there is plenty of noise and everyone is buzzing.
We're back at home on Saturday and we want to get back to winning ways.
Our preparation during the week has all been about that and making sure we are prepared and ready to go for maximum points. This game will be like any other – strengths and weaknesses.
It's not about a team's position or form, it's about how you perform on the day, whether that be us or them. The only thing we can concentrate on is us.
Last Saturday we came away from Oxford with a good point to keep our undefeated away run going, which meant we picked up four points from the two away games in the week.
Did we want six? Yes, of course, we did. You always want a bit more.