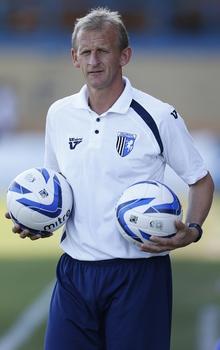 Tuesday's win at Northampton showed so much about the character of this squad we've got.
We went into the match following our first defeat, where, as a group, we didn't achieve those high standards we've set ourselves. But it's after a defeat you find out about people.
We learned a lot about the players – we learned they have massive hunger and desire. What a great response.
We spoke about desire and a willingness not to concede and there were some fantastic blocks, great headers, a couple of good saves and people reacting to things.
The conditions were terrible, with swirling wind and rain and we started off a bit tentatively.
Once we got going, we passed it well, competed fantastically against a big and strong team who play to their strengths and we scored a great goal.
For all the football we did play, our goalkeeper Stuart Nelson picked it up and we went for a quick counter-attack. Deon Burton nipped in and showed great composure and it wasn't an easy finish but he did it well.
Some of the football in the second half was great to watch and there was a fantastic strike by Payney for the second.
Read more from John Schofield in Friday's Medway Messenger.