Gillingham manager Martin Allen is hoping his players can deliver a special performance this weekend.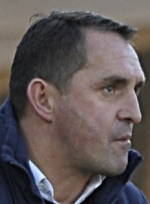 The Gills lost last time out on home soil, going down 3-2 to Exeter and he admits the fans are owed one.
Allen (pictured) said: "I think there will be a big crowd for this one, with a special offer on the tickets. It's about time we delivered in front of a big crowd as well and put in a proper performance.
"In the last few games (at home) we have played well in patches and Saturday is going to be special."
And with cut-price tickets, Allen feels a trip to Priestfield will be the perfect excuse to miss out on the Christmas shopping.
He added: "We all know it's a difficult time of the year financially, everybody is out and about shopping and trying to buy presents and sweets and all that stuff.
"What an excuse and what a great way to get out of going shopping. 'I can't go shopping because I'm going to watch football at Gillingham. I mean,
it is pretty good isn't it?"