By Al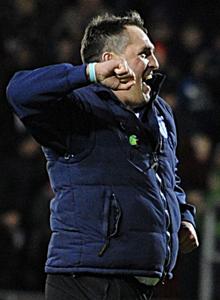 ex Hoad
Manager Martin Allen has refused to get caught up in thinking about other teams in the League 2 promotion race.
The Gillingham boss does not want to distract his focus from his own side, despite seeing their lead restored to five points after other leading sides slipped up on Saturday.
Third-placed Cheltenham are the only members of the top six that Gills have not beaten this season but Allen, speaking after his side's 2-1 win at Rotherham, said: "If I start worrying about that kind of stuff, then my head starts wandering.
"I have no interest or knowledge of how the other teams got on, I don't even know who was playing each other.
"All I have done all week is get our lads and myself prepared. Someone told me the other day that Rotherham were fourth. I didn't even know.
"We haven't been in bad form, the results perhaps haven't been what we have hoped for but we haven't played awful."
Despite his ignorance of league standings, the final whistle at Rotherham sent a pumped-up Allen (pictured) sprinting onto the field to celebrate with the Gills fans.