Gills boss Martin Allen has refused to be sucked into a public debate with his counterpart from Rotherham United.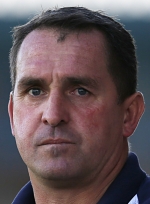 The Gills left Rotherham last weekend as 2-1 winners but beaten manager Steve Evans - who last season had a spat with former Gills boss Andy Hessenthaler - took issue with several incidents in the match.
One of Evans' main gripes was a clash between Gills striker Deon Burton and his captain Ian Sharps, who suffered a broken nose.
Match official Andy Haines didn't issue Burton with a card, although he did see the incident.
But Evans told his club's official website he was reporting the matter to David Allison, the man in charge of Football League officials.
The Rotherham boss said: "For me there was an elbow by Deon Burton on Ian Sharps which should not have gone unpunished, and there were a number of key incidents which didn't go in our favour.
"The key incidents have been highlighted on Millers Player (the club's video website). I said to my players that the official was a good one before the game but for me he has had a bad afternoon."
But in response to Evans sending off a DVD highlights package to Mr Allison, the Gills boss (pictured above) said: "I can only deal with what I can deal with and that's Gillingham Football Club, our players and our supporters and our boss, Mr Scally.
"I don't think you will ever find me getting involved in all that kind of stuff.
"We have got a code of conduct and a way of dealing with stuff and we deal with our stuff internally and privately and in no way, shape or form would we ever criticise or go public with any criticism of any opposition and I think everyone could say we conduct ourselves in the right way, wherever we go, on and off the field."
And Burton, who accepted he unintentionally injured Sharps and spoke to the player directly after the incident and following the game, said: "That is as far away from the truth as there could ever be as I would never intentionally try and hurt an opponent.
"I was leading with my arm, to try and get leverage against a defender, but as far as I am concerned there is nothing in it."