Gillingham manager Martin Allen admits Boxing Day's clash with Barnet will still be on his mind amidst the Christmas Day traditions.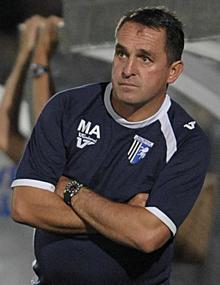 The Gills were without a game on Saturday, due to a waterlogged pitch at York, but his side will be back in action when League 2 strugglers Barnet head to Priestfield.
Allen, who had had three spells as manager of Barnet, will hope his side can maintain their five point lead at the top of the table.
But before that game, he'll have plenty to keep himself occupied.
Allen, who allowed his players to have Christmas Day with their families, said: "I will probably wake up as I normally on Christmas Day at 6.30am and I will probably sneak out the house and play golf somewhere, because I wouldn't want to wake anyone up.
"I am not a member anywhere but I doubt anyone will be on a golf course anywhere at 7.30am. I will sneak in somewhere, play nine or ten holes, which is what I love to do Christmas Day, because nobody plays golf then except for me. I will take Monty, come back, have a bit of breakfast, go for a walk with the family and then have Christmas dinner.
"Do I switch off? I love the golf and I love the walk and like everyone else I will have lunch at around 1 o'clock and fall asleep on the sofa and I really do hope Only Fools and Horses is back on, but it never is now.
"I will flick through all the channels and I suppose as I am flicking through the channels the adrenaline and your mind will start to drift towards the game and rightly so.
"I have a lovely family and once we get together we have a lovely time and we will be playing board games the night before. It will be an early night and into the ground early on Boxing Day morning."
The Gills will face a Barnet team who won their last encounter, against Burton, 3-2.
But it's been a struggle for the Bees this season, even though former Gills coach Mark Robson – who started the season as head coach – now has former Dutch international Edgar Davids assisting him. Barnet go into the Boxing Day fixture sitting third from bottom in League 2.
The Gills have no injury concerns ahead of the game. Kick-off is at 1pm.