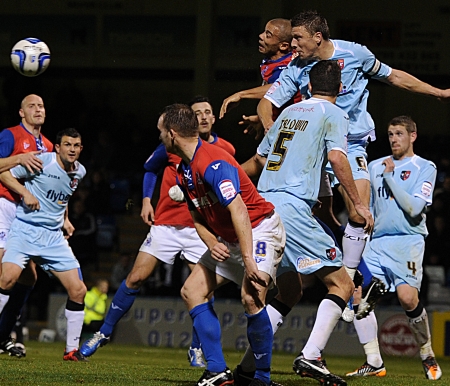 Gillingham manager Martin Allen admitted his side were too "gung-ho" in the latter stages of Tuesday's game against Exeter.
In a frantic finale the Gills conceded a crucial third goal just moments after keeper Stuart Nelson had made a penalty save.
"It was exciting and there were twists and turns at the end," said Allen, pictured.
"There was a brilliant save from Stuart Nelson on the penalty and what a goal from Danny Jackman (to make it 2-2). Absolutely brilliant."
Jackman's goal levelled the game with 11 minutes left after Exeter had turned a one-goal deficit into a 2-1 lead.
Allen said: "We left ourselves a bit too open, too gung-ho. A point would have been good at that stage but we had so many attacking players on the pitch at that stage we couldn't really change it as it all happened so quickly.
"We did try and change it tactically to make some adjustments. We were playing virtually 4-1-5 with everyone pushing forward to get a winner and perhaps we should have had another holding midfielder in there but we just couldn't make the adjustment from the technical area and before you know it, it was gone.
"It was a difficult one to swallow but the lads gave everything they've got, they played some really good stuff and it is nothing to be too disheartened about, but we don't like it when we don't win.
"We played some fantastic football but it was difficult to break them down, a team playing on the counter attack once again against us and they have a couple of quality footballers in their team, upfront especially.
"On the counter attack they were always dangerous."