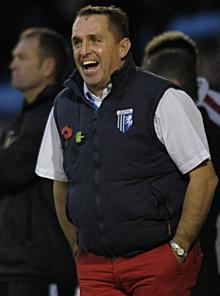 Gillingham swept aside League 1 Scunthorpe to leave boss Martin Allen beaming with pride.
The Gills have hit four goals now in each of their last three home games – the latest of which saw them cruise past a team from a higher division.
"I feel proud," said Allen (pictured).
"We made five changes to the team that did so well last week and I am so lucky that I have so many good players in my squad.
"The first half was a challenge. The opposition (Scunthorpe) had a new manager and we expected them to be hard to beat. It was always going to be difficult to break them down. We expected that and we were up against it.
"In the second half we had far too much passion, power, pace, quality in possession and we played some great football. Our full-backs were bombing forward and, once we were moving that ball around in the middle of the pitch and going forward, there was only ever going to be one winner."
And Allen felt confident even at half-time with the match poised at 0-0.
He said: "I didn't say much at half-time, I've got to be honest.
"I thought we did really well first half. We stood firm and we battled with them and we stood up to it. I said 'now let's start playing, let's go up another notch, another level. You can go faster, you can jump higher and you can pass it a little better. Let's now go for them'.
"We had done the first part, which was the battle, and the second part was about showing the quality with the ball.
"We wanted to make more passes and our full-backs bombing forward as much as we could and we just dominated it from start to finish. Our goalkeeper maybe had one save to make early on but that next chance didn't come until the 87th minute. It was just total domination from start to finish."
And despite the scoreline, Allen felt the result was never in doubt.
"It didn't feel that special because I knew we would win," he said.
"I expected to win and I thought we would. I am not in shock, or surprised, or thinking, 'oh my God let's get some champagne', I just knew it was going to be a win."
At half-time did you think Gillingham would be so dominant in the second half? Comment below.