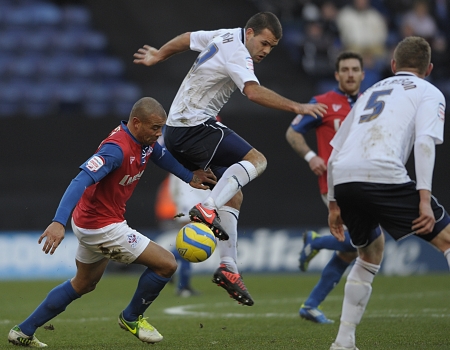 Martin Allen praised his side's "superb" showing after bouncing back from a sluggish start.
The Gills conceded twice in the first half but made a real fight of it in the second, as Allen's men went for broke.
Boss Allen said: "We were a little slow coming out in the first 10 minutes and then for the next 83 or four minutes we were superb.
"We were more than comfortable going into half-time 1-0 down, which I think we would have all said was okay. We would have had plenty to build on, plenty to work on, but then we conceded that (second) goal just before half- time."
At 2-0 down Allen took off defenders Joe Martin and Callum Davies, replacing them with attack-minded players Charlie Lee and Chris Whelpdale.
"We said at half-time 'let's get at them'", said Allen.
"We didn't go there to play defensively. We went to attack. We weren't playing 4-5-1 or on the counter attack, we were playing all out, we went for it from the first minute.
"We were 2-0 down in the FA Cup. Some people might say I was mad, some people say brave and if we had of scored that penalty and won it, which I thought we would have done, then you're a genius. That's how it works in this job.
"There were a few other chances we had and we could have equalised in the first half, to make it 1-1, and it would have been so, so different.
"They kept going right up until the end and we had chances, corners and crosses going into the box and we just were unable to get the goal that would have made a difference.
"Sometimes these things happen but we were playing a team from the division above and we've given a very good account of ourselves."