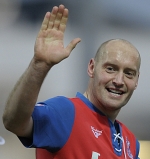 by Luke Cawdell
Adam Barrett was a proud man after Gillingham's victory at Chesterfield.
Barrett helped the club to their 15th clean sheet of the season and yet another away league win – their 11th of the campaign.
He said: "We are proud and in the 100 or so years' history of the football club, nobody has ever done what we've done.
"To break that record is testament to the staff, supporters and players. We have done it together.
"There are some tough away grounds in this league and we have rolled our sleeves up and shown what we are about."
The Gills had to play on a poor surface in freezing conditions at Chesterfield and Barrett added: "It was a battle and we enjoyed that, especially the lads at the back. We have had to dig in away from home and shown our resolve and character.
"The pitch was difficult but we played some good stuff and it's another tremendous win. We broke the record, which is a big achievement, and 11 wins so far is an unbelievable record."
The priority for Barrett is promotion but the title is clearly also on the agenda.
He said: "We have been top of the table for so long and the main aim is promotion, that's the be all and end all."