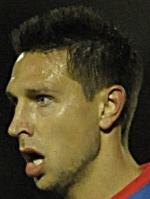 By Craig Tucker
Joe Martin says he is close to agreeing a new deal to stay at Gillingham.
The left-back is out of contract at the end of the season but is loving life under manager Martin Allen and wants to remain at Priestfield.
The 23-year-old (pictured) said: "I'm hoping the contract will be done in the near future. I think we're looking at another two years but I've stayed out of it really. I'm very happy at the club and everything is going well.
"The chairman has built a good set-up – it's a lot better than a League 2 club – and the manager has been very good with me so I couldn't ask for more.
"There's a misconception that he's mad but there's a meaning to everything he does. He doesn't do anything without it being thought out and he's very professional.
"I'm still young and Gillingham is a club that can help me improve. It can play on a player's mind if you're out of contract at the end of the season but it's not a massive issue because at the end of the day you can only do your job.
"If it's sorted, great, but if not you carry on until you hear otherwise."
Martin, who joined after leaving Blackpool in 2010, has flourished under Allen and was an ever-present in the league before breaking his hand in a match at Torquay at the end of October.
He made his comeback in the FA Cup second round defeat at Preston last weekend after seven matches out.