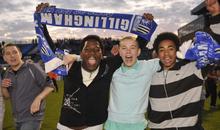 Gills fans are keen to see their side get back on the winning trail and struggling Bradford are next-up at Priestfield, but despite being strong favourites, not everyone is confident of a home win on Saturday.
JULIAN HART
Canterbury
After the Aldershot game, which is our seventh draw in last eight, it makes this weekend's and next Tuesday's match against Southend vital three point games to keep us in the automatic/play-off hunt.
This spell has really come since we have lost Spiller to injury, so looks like the sooner he's back the better.
Bradford won't be an easy game, however, with the departure of Peter Taylor last weekend it will be difficult to tell how Bradford will do.
Prediction: Gills 3 Bradford 2
MALCOLM SMITH
Grimsby
So was it a point saved at Aldershot or just another frustrating draw? After losing a goal so late in the game the equaliser was timely and certainly gained us a point which keeps us in the playoff places, however three points is going to have to come fast if we want to keep up our promotion push.
Hess will highlight that we haven't been beaten, which is good for confidence, but it makes Saturday's game against Bradford a must win to keep us up there.
Southend next Tuesday is set to be another huge six pointer.
The game at Valley Parade was a dull affair with The Bantams stealing the three points at the death, so we definitely owe them one.
The game will see the return of Micky Flynn to Preistfield but sadly no Peter Taylor. In Peter Jackson they have a good manager at this level who has orchestrated a few wins against us so it will be no easy task.
Hopefully we will see Cody return to goal scoring form and get a comfortable win.
Prediction: Gills 3 Bradford 0
SAM LIVINGSTONE
Pangbourne
I think that because of the last few draws we have had we can no longer reach those top three spaces, as I don't think that we can win enough games - even if we do hit top form again.
Now it is more important for us to consolidate our play-off spot, as at the moment there are a lot of teams beginning to queue up behind us, many of whom have several games in hand.
With Peter Jackson taking control on a temporary basis Bradford will be well up for this game. They have had a shocking season in comparison with their true capability and so I think they will be desperate to show their potential.
It should make for an interesting game as Hess will be desperate to win, as any other result will put our play-off space in real long-term jeopardy.
I think that this will be a Gills loss, as we are really struggling at the moment, especially with regards to scoring. None of our strikers have scored in the last four games. I hope Hess takes a risk and starts with at least Barcham on the wing and I would put Rooney behind Cody in an attempt to freshen things up.
Prediction: Gills 1 Bradford 3
MIKE HARRISON
Bradford Fan
I'm sure Gillingham fans were looking forward to the return of Peter Taylor, but he surprised everyone by quitting, and Peter Jackson is now in charge.
If Jackson can find some team spirit in there then I'm sure they will give the Gills a better game then we would have done under our previous manager.
The Bradford fans nicknamed our previous manager Tinker Taylor as he used so many players, around 35 at the last count, but he wasn't helped by injuries to key men. Former Gills player Michael Flynn has only just come back after picking up an injury in pre-season, while Simon Ramsden, the captain, has missed most of the season.
The loan signings were hit and miss and Tommy Doherty, his big signing, hasn't really done it for us and he's injured as well.
Jackson has got to get to know the players quickly but the problem he'll find is that we're fragile in defence and we don't score enough. If Gillingham score first it will be a real test of character.
The Gills midfield will need to keep David Syers quiet. He could be key and he's a box-t0-box goal-scoring midfielder. Unfortunately though I can't see this going any other way than a Gills win.
Prediction: Gills 2 Bradford 1
RICHARD PEPPER
Manston
It is time for Hess to stop referring to this alleged run we are on. The good run was before January. Since then, and the manager of the month curse, we have been unable to win matches, home or away.
As usual, our failure to strengthen the team in January will come back to bite us, as will our first half season form.
Bradford are struggling and barely beat nine-man Stockport at the weekend which maybe our saving grace.
We certainly need to shake the midfield up a bit, and I would start Andy Barcham and Mark Bentley on the wings with Jack Payne and Curtis Weston in the middle.
We haven't won in ages and barely escaped with a draw at Aldershot so something needs to change. With our strikers' lack of form in front of goal it could be a tight affair, although the inconsistent McDonald will probably find his scoring boots having said that, so I am going to go for a home win.
Prediction: Gills 2 Bradford 0
Leave your predictions below.