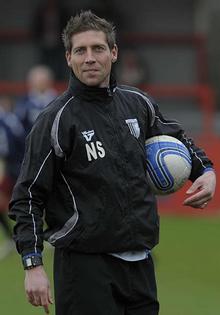 Heads were down after the defeat against Dagenham but we have to raise them again because we are still in it.
We know we have to win our last four matches and this Saturday we have a massive game against Oxford.
Oxford are occupying that seventh-placed spot we want and we have to make sure we get the team selection spot on this week.
We have worked hard during the week and look forward to the challenge against a side who like to play football and that may help us. They have a big pitch and hopefully it will bring the best out of us.
The manager is a fighter and I have always fought for the Gillingham shirt and we need to see that mentality on Saturday. Unfortunately, it wasn't there on Monday and the performance against Dagenham was painful to take.
With Northampton beating Oxford, we had a real chance of closing the gap. We expected the boys to fly out of the blocks but there was a lack of spark and energy.
The performance was flat and we had a massive chance to get into the play-offs but there was no fizz about us.
It was the same team that started against Bristol Rovers and we expected them to do the business against a side who are a tough team to play against. They hit the ball forward early and we got done on the counter-attack.
We will pick ourselves up, though, and hope that last year's performance against Oxford is a good omen for us – we won there and then won four or five in a row and that's what we are looking for again.
Votes are being cast for the Gillingham goal of the season and it's such a hard one to pick.
Usually you get one in a season that sticks out but this year we have had so many good goals to choose from.
Chris Whelpdale and Danny Jackman seem to have scored some great goals between them and can make their own compilation package.
Lewis Montrose scored a great goal and Gavin Tomlin, against Hereford, hit a great volley and against Southend he dropped his shoulder and then drilled it in. You could quite easily make a Great Gillingham goals on DVD this season.
Scoring goals has not been a problem. We just seem to have conceded some silly goals but we were trying to work out in the office how many times we've had to change the back four this season.
It's been crazy and the teams that have consistent sides do benefit.