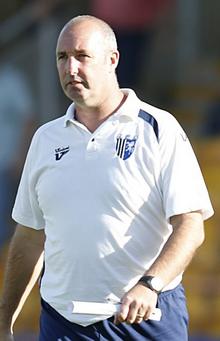 by Luke Cawdell
Gillingham goalkeeper coach Carl Muggleton says Gillingham's players need to enjoy the experience of fighting for the League 2 title.
Muggleton is one of the few members of the Gills squad who have tasted life at the top of the division before.
He was part of Martin Allen's coaching set-up at Notts County and was at the club when they took the league title in 2010 after Steve Cotterill had taken over.
With Gills sitting five points clear at the top of League 2, Muggleton revealed life at Priestfield is proving enjoyable.
He said: "The players are together and there is a lot of camaraderie and it is such a great atmosphere to be around.
"Everyone is enjoying training and people are enjoying being around the club."
He added: "As a coach or a player, you have to enjoy the good times when you are top of the league and doing well.
"I am enjoying being here and the way the players are with the work ethic and everyone around the club who has helped us. It's been an enjoyable experience."
Muggleton – with more than 550 league appearances behind him at clubs such as Stoke and Celtic – returned to a job outside of football, as a driving instructor. That all changed again when he joined the Gills for their trip to France in the summer and was appointed goalkeeper coach.
The 44-year-old oversees the coaching duties for professional goalkeepers Stuart Nelson, Tommy Forecast, Ross Flitney and young Daren Hawkes.
He said: "We have some good keepers and hopefully we all improve together.
"We are all learning as coaches and people."
Have you noticed Muggleton's influence on the keepers at Priestfield this season? Have your say below.