Goalkeeper Stuart Nelson praised the team's defensive qualities after seeing off Northampton on Tuesday night.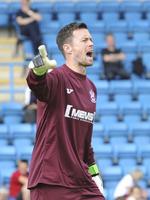 The midweek victory lifted the Gills back to the top of the league and ended a run of five games without a win at Priestfield.
It was a victory that the Gills had to fight hard for.
Nelson (pictured) said: "We knew it was going to be tough and they are probably the most direct team in the league.
"The boys coped tremendously; they dug in and dealt with it. We defended from the top and if you have a work-rate like that you won't be far off it in any game. That's what we need to keep doing.
"The fans don't expect us to win every week, they know that, but if we give 100% and work hard for every minute of the game, they will back us and that's what they do. On Tuesday we gave 100% for 90 minutes."
Gillingham's first goal was netted by Cody McDonald, as he chased a ball from Matt Fish that bounced over the head of Northampton keeper Lee Nicholls.
Nelson backed his opposite number to bounce back from the experience.
"As a keeper we all know how he feels," said the 31-year-old.
"We all know what can happen and how you feel inside when it does happen. I wouldn't say I had sympathy because would he have sympathy for me? I don't know.
"But he is a good keeper and I am sure he will bounce back from it. He is a young lad and will do well but from a Gillingham point of view I couldn't have been happier!
"It settled the nerves and it has been great for Cody to hit the ground running as he has. I don't think he will get one much easier than that, six yards out with nobody in goal. I know he won't get an easy one like that in training - I'll make sure of that."
The Gills then scored a second late on, as Myles Weston was picked out from a goal-kick. Because it was a goal-kick there was no off-side and Weston fired home in space, to cap a great evening for the Gills and their keeper.
"It is about knowing the rules because Westy went and stood on the edge of their box," said Nelson.
"I kicked it to him and it couldn't have been any simpler. Sometimes you don't get your breaks but when Myles is in that position there is no stopping him. He created the opportunity for himself and fair play, it was a great finish. It killed the game off."
Nelson has yet to score himself from open play, but with his long kicking ability, it always remains an option.
"I had one disallowed when I was at Brentford," he said. "It went in against Doncaster and Deon Burton was playing with me then as well. But the referee said Deon had fouled the goalkeeper. It wasn't a foul.
"Before the end of my career there will be another chance and I will be ready. It all has to come together. You always have to be aware of the opportunity."