Gillingham will return to the top of the table in League 2 with a win at York on Tuesday night.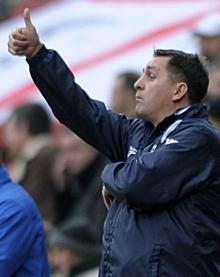 Leaders Port Vale were held to a draw by Barnet on Saturday and that has opened the door for Martin Allen's side to recapture top spot.
But for Allen (pictured) it's of little concern and he insists he has no interest in what else is going on in the division.
He said: "I didn't even know who Port Vale played. I just focus on our players, our training, our team, our staff and our club. I don't care how they get on – I haven't got the slightest interest.
"I get asked every week about the league table and even when we were top of the league and clear."
"We would prepare exactly the same way whatever the result on Saturday. I certainly wasn't rushing off to the hotel to pop some champagne. If we hadn't won I wouldn't have been hiding in a dark room with the curtains pulled.
"It was lovely to see our supporters happy on Saturday because there is nothing worse than losing at home like we did on Monday."