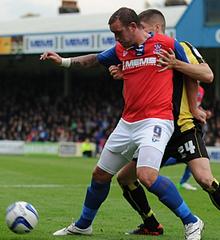 By Luke Cawdell
Gillingham boss Martin Allen has insisted leading goalscorer Danny Kedwell is not for sale.
The transfer window is open for business in January and Allen has received calls from other clubs enquiring about the availability of the 12-goal striker.
But every call has been met with the same reply.
Allen said: "Loads of clubs have rung up about him but he is not going anywhere. He is a good player and part of our squad."
Kedwell (pictured) ended a barren spell – netting for the first time since November – with Gillingham's only goal in the 2-1 defeat to Port Vale last week. He is now just two goals away from the 14 he hit during the last campaign.
Allen added: "Danny is a great character. He is a likeable person and works hard at his game. I couldn't ask for any more from him but I certainly wouldn't single out any one person who has done well because we are a team and a squad."
Should a big team come calling, Allen is not likely to stand in Kedwell's way but the striker himself has no wish to leave.
He said: "I would love to finish my career here. I am a local boy and it's the club I support. Hopefully that's me finished now (with moving), although in football you never know what is around the corner.
"It is a real good buzz to be playing for my local club."
How important is it to keep Danny Kedwell at the club? Have your say below.