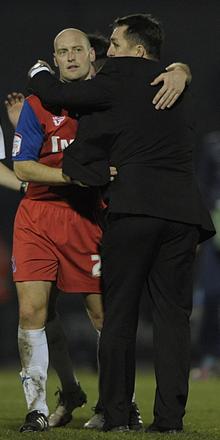 Martin Allen admitted Saturday's victory at Bristol Rovers was not spectacular but was thrilled by the way his side won it as a team.
Goals from Chris Whelpdale and Deon Burton wrapped up maximum points for the League 2 leaders.
"It was just a fantastic team performance," said Gills boss Allen, pictured right with Adam Barrett at the final whistle.
"Was it spectacular? No. Was it beautiful? No. But the resolve, determination, everyone just did the job in our team.
"It was that teamwork, that team ethic and commitment to make us so hard to break down and keep a clean sheet; that is pretty good going."
With a two-goal lead at half-time the Gills coasted to victory in the second half.
"We work on that in training," said Allen. "We don't just play head tennis and five-a-side and have a jolly up all the time. We practice, train and coach all the time and we have done it since we were in France, all those things since pre-season have been bedded into our club.
"They all know, when we are winning, 11 people have to defend and that's it. If 11 people defend it is very difficult to break down and we have seen it at all levels."
And for Allen he was thrilled to have backed up the New Year's Day win over Southend with a successive win on the road.
He said: "They just won their last game and drew the other (under their new manager), so this was always going to be a tricky game after the win at Southend. It was always going to be a tester and that's when your men have to stand up and be counted.
"It is easy to get hyped up and all those things for that Southend away game but it's when you (go to places like that) when you see what you've got. Those are the games that are important."