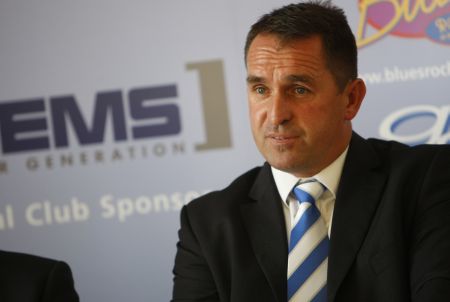 Gills boss Martin Allen is building a team for League 1 Pic: Barry Goodwin
by Luke Cawdell
Martin Allen insists he is not putting together a team to win League 2, but one that can "smash" League 1.
A mid-season clear-out on Thursday followed the recent arrivals of Leon Legge and Steven Gregory.
And Gillingham manager Allen believes that anyone coming into Priestfield now has the ability to keep the club moving forward at a higher level.
"Every player that I brought in can play at League 1; it's the criteria, simple," said Allen.
"The criteria is not, 'can't they get us up?' the criteria for our recruitment, when we have our staff meetings and when our analyst does his work is can they challenge in League 1?
"Everyone that comes in has got to be able to challenge in League 1. There is no point in bringing in squad players. Our young players are coming up to fill those gaps and what comes into the building now has got to be good enough to do it again next season and challenge at the top.
"We are not going there to make the numbers up, we aren't going up there to play around with relegation, we can go up there and smash it again; that's what we are aiming to do."
On Thursday Allen announced that four young players were leaving immediately and another three senior pros were being transfer listed.
Two players have already arrived in the transfer window but Allen hasn't ruled out more arrivals, although he has praised his team's efforts so far.
"These players have been absolutely fantastic that we have got and they have a fantastic team spirit, a unity and togetherness and camaraderie.
"There are teams in this division that have paid a lot more money than us and we are above them in the league, that's not through luck, that's through having the right kind of people and the right type of players and staff behind the scenes that maximise this opportunity we all have, with fitness and training.
"We have just taken on an analyst, who studies the DVDs and does player profiles on all potential targets and player recruitment, on who we are playing against and details about everything.
"We are adding on and off the field and hopefully moving the club forward.
"By maybe opening some gaps at that development group level I am now hoping that some of those youth players can come up, another team if you like, to start playing with Mark Patterson's team. Then some of those younger players, who trained with us on Thursday morning, some of those are going to have to start kicking on.
"Mr Scally (Gills chairman) hasn't said no (to more signings) but my priority was Leon Legge and Gregory. They are now through the door. Mr Scally knows everything that is going on in that early morning phone call every day.
"Six months have gone and the first part was the settling in period and now it is the next part. Come next summer it will be the next change."
Read the latest Gills blog by clicking this link.
Do you think this Gills team is capable of challenging in League 1? Comment below.