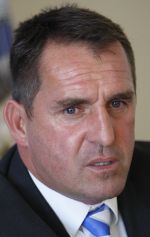 By Craig Tucker
Martin Allen and his staff have shut themselves away in a bid to work out Gillingham's strongest team.
A run of one win in five games has seen Gills' lead at the top of League 2 cut from seven points to two.
Boss Allen (pictured) is always looking for ways to improve and has trawled through hours of analysis ahead of the game at in-form Rotherham, who sit fourth, on Saturday.
He said: "The senior staff have been analysing performances of every player in the Gillingham squad since the first ball of the season was kicked.
"Sports science, statistics, analysis – individual and collective – it's all been collated to find out what's been the winning team, what's been the winning combinations, what players have been the most successful for us.
"There's been an awful lot of work behind the scenes and some long, long hours. I don't think anyone's seen much of us over the past 10 days where we've been working so hard."
While Allen appreciates the merits of sports science, his team selection won't be determined by a computer. He added: "The most important thing is the communication between you and the players.
"Looking after the players and making sure they are happy, fit, know their jobs and are enjoying coming to work every day. If all those things are in good order, we can use the analysis and sports science and other bits and pieces to hopefully make my decision-making better."
How much should scientific analysis be used in team selection? Have your say below.