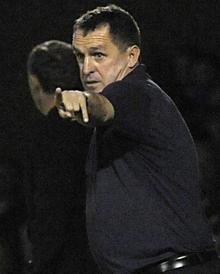 by Alex Hoad
Martin Allen hailed 10-man Gillingham's 1-1 draw at Accrington Stanley as a 'great result.'
Gills saw their lead at the top of nPower League 2 cut to two points after keeper Stuart Nelson was sent-off for a professional foul allowing James Beattie to cancel out Myles Weston's first-half opener from the spot.
Despite late chances at both ends, there were no further goals in the heavy rain and strong winds of the north west.
A drenched boss Allen said: "It is a great result away from home. The team have given it everything they've got, they were very difficult conditions with the wind and the rain, but we stuck in there.
"I thought for 70 minutes they weren't really in it but for a mad 10 minutes they looked like they were going to score, but we regrouped and at the end it looked like we were going to score.
"I don't think they had too many shots. We restricted them to a few, mainly long range."
He revealed: "I am not sure about the sending-off, I couldn't really see from where I was whether it was or it wasn't. I'm not doing a Wenger technique.
"But even when we were down to 10-men we were still pushing."
Gills have gone down 7-4 and 4-3 in the last two years at the Crown Ground and Allen said: "Coming up here to get a point is always good. I've been up here a few times and been spanked and I understand we've let in 11 in the last couple of years so we've improved in that respect.
"It's a tough ground to come and play, especially for the third time in a week. It's a good point for us."
Almost 300 Gills fans huddled behind a goal on an exposed terrace, unsheltered from the rain and Allen admitted: "I would like to go up to every single one of them and shake them by the hand and give them a big hug."
What do you think of the Gills result? Have your say below.