Martin Allen hailed Gillingham captain Adam Barrett after he pounced to rescue a point on Saturday.
Allen's Gillingham were just two minutes away from suffering only their third defeat of the League 2 campaign, before Barrett headed home to make it 2-2.
"It looked like we were down and out," admitted Allen. "Then there is your captain steaming in with a header, where boots are flying, smashing it into the back of the net.
"Adam has a great record over the last 10 years scoring goals throughout the season, he has often been up there around the nine-goal mark, and it's important Adam gets goals.
"Not only is he a great leader, a great captain and a great professional, it's just typical that our captain steps up when we needed him. He has been amazing and a fantastic signing."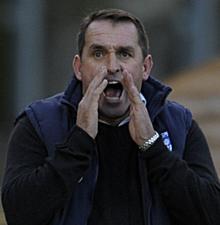 Allen (pictured) gave his first team players Monday off to recover from a tough week, after playing Tuesday and then making the long trip to Plymouth at the weekend.
Both games ended in a draw but the Gills remain five points clear at the top of League 2.
"Everyone has given everything they have got," said Allen.
"There are no lightweights and no characters who are swerving it. They will be off to recharge their batteries and they will come in on Tuesday and have a nice bright session, then (train again) Thursday and Friday.
What have you made of Adam Barrett's impact this season? Comment below.