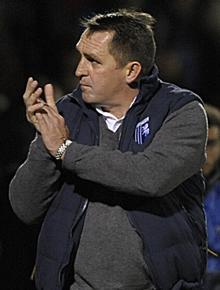 Martin Allen was happy with the point from Tuesday's match against fellow high-flyers Cheltenham.
Neither side were able to make the breakthrough at Priestfield.
"It was a good point and we played very well in the second half," said the Gills boss, pictured.
"They were dangerous as we expected in the first half but it was a great game of football.
"Mark Yates (Cheltenham manager) has put together a really good team and it's a measure of how far we have come. The lads were really disappointed in the dressing room but I wasn't because I think it's a good point.
"Nobody has gained on us (in the table), as all the other teams at the top have drawn, so I suppose that's good news as well."
The Gills were forced to defend in numbers at times during a testing first 45 minutes, but held out to claim a third straight clean sheet.
"Our players are fantastic, they put their bodies on the line and they care," said Allen.
"Sometimes we are going to have to defend and make those blocks. Our goalkeeper made a brilliant save. They had a few close chances but when they came our players closed in around our goal and defended for their lives. That is what they do and that is probably why we are at the top."
Allen revealed that he had to re-shuffle his team on the eve of the match, after midfielder Charlie Lee pulled out with a virus.
"I found out at 5 o'clock that Charlie couldn't play," Allen said.
"Charlie played so well on Saturday when he came on as a substitute so we thought it was the right time to put him in, because he is a good player, but they are all good players and they can all play well.
"It was not too much of a disruption. Charlie is good but the people who took his place are good as well."
Allen promoted development player Josh Hare to the bench to make up the numbers, despite the youngster playing 90 minutes in the reserves during the afternoon.
"He was a sub which was good," said Allen.