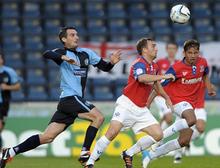 by Luke Cawdell
Charlie Lee admitted Tuesday's display against Northampton wasn't the prettiest but was just pleased to get back on form at home.
Lee revealed how Saturday's draw with York had left the players feeling low but Gills bounced back against the Cobblers.
"It feels brilliant, especially after Saturday," said the 26-year-old. "We were all a bit down and it's the first time this season we've felt a bit dejected after the game, so I wouldn't have wanted to be Northampton.
"I knew there would be a big comeback from the boys and they were raring for it."
The conditions dictated on Tuesday, with wind and rain and a boggy pitch but they did not deter the Gills who ended a run of five games without a win at home and went top of League 2 ahead of the weekend's fixtures.
"We just have to ride the rollercoaster now," said Lee. "We are playing good football and need to build on that at home.
"We haven't picked up as many points in the last few games as we did at the start but every team at the top is finding it hard. When you are top, teams come and sit in behind (the ball).
"We are not going to have the run of wins like we did at the start because teams set up differently but we have to keep picking up points. If we keep up this form, we should get promoted."
Lee and the rest of the team enjoyed a break for a couple of days but are due back in training on Saturday ahead of Monday's live Sky Sports match at home to Wycombe.
He said: "I don't care if we play ugly and I play bad – even if I score two own goals – as long as we get three points."