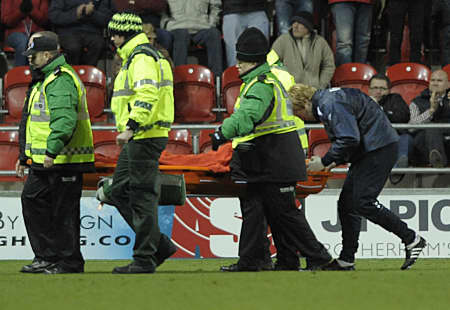 Romain Vincelot travelled back with the Gills players on Saturday night, despite being carried off in a neck brace after a heavy challenge against Rotherham.
The 27-year-old Frenchman, on loan from Brighton, was pole-axed by midfielder Jason Taylor in the 2-1 win at New York Stadium and fell to the floor unconscious.
Frantic Gills players beckoned to the benches for medical help and Taylor was booked for the full-blooded challenge for a header.
Physios from both clubs attended to the player and after around 10 minutes on the turf, he was stretchered off before being rushed to hospital in Sheffield for tests.
Boss Martin Allen said: "You can't imagine what it's like when you are the manager. You ask them to give everything but there is obviously a limit and when you see one of the players in that position, not moving on the pitch, and you are the manager it's horrible.
"I must say a big thank you to the Rotherham supporters who clapped him off which I thought was pretty special and I think he'll be OK."
Gills striker Deon Burton, who had been substituted moments before the clash, said: "I think he was in shock and that's why he was having a little bit of a fit but he came round."