Gillingham have taken the decision to release all 14 of their out-of-contract players.
Captain Barry Fuller (pictured), experienced pros Simon Royce and Mark Bentley and youngsters such as Tom Wynter are all free to seek employment elsewhere.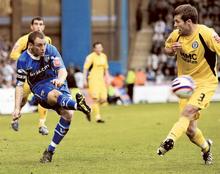 Following manager Mark Stimson's departure on Monday the club's chairman Paul Scally took on the role of dealing with those players coming to the end of their current deals.
Other players whose contracts are expiring are Garry Richards, John Nutter, Stuart Lewis, Adam Miller, Rashid Yussuff, Dennis Oli, James Walker, Luis Cumbers, Andy Pugh and Jacob Erskine.
Youth striker Charlie Stimson, who was expecting to be signing pro terms with the club, has declined the offer in light of his father Mark leaving his role as manager.
Dean Rance and Connor Essam have, however, now agreed one year deals.