Adam Birchall hit Gillingham's fourth and final goal on Saturday and promptly boasted he was back in business.
It was Birchall's first competitive goal for the Gills, since signing from Dover Athletic 16 months ago, after missing the whole of last season with a serious knee injury.
A month's loan at non-league Dartford gave Birchall the confidence to forget about his injury nightmare and start thinking about his goals.
He said: "I wanted to come back and make an impression and I celebrated like it was a 30-yard screamer.
"After all I have been through I can now put it all to bed and really get on with my career.
"That loan at Dartford was very important and it was a big help. At the beginning of the season something wasn't right mentally with me.
"I would be going into a game thinking 'will the knee hold up?' and I wasn't worrying about the game. That loan period was essential.
"I felt I was getting stronger as the month went on and I wasn't thinking about the knee anymore.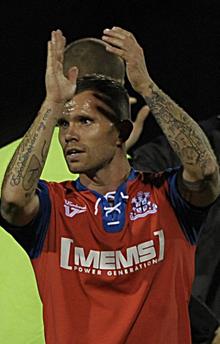 "At first (during the loan) there were some big tackles going in and a few times I was thinking 'oh no' but luckily it held up and it just kept proving to me that it was all good.
"If you are worrying about the impact you are taking your mind off your touch. The touch never actually goes, but it's just putting things into order. Now I have started to get used to being whacked again, it is business as usual really."
Birchall was celebrating wildly after his goal but so were the fans, his team-mates and friends, all of whom have helped him cope.
"That was massive for me and I can't thank everyone enough for their support," said the 27-year-old.
"From the media, to the team, to the management and the fans, everyone involved at the club. Other clubs around Kent and old clubs outside Kent, a lot of people have helped me through this and I am so grateful and thankful to them and hopefully I can start repaying them.
"The gaffer here has always made me feel like I am part of the squad. It's never been, 'oh, Birchall isn't quite fit', it's always been 'Birchy you come in, you are part of it'."