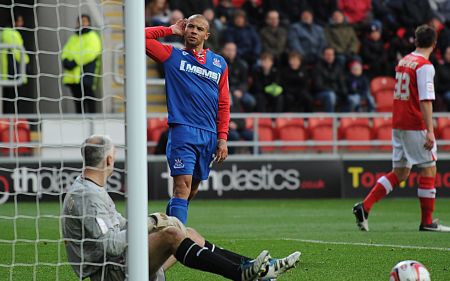 By Alex Hoad
Deon Burton revealed the hostile reception he received from the Rotherham fans inspired him to score the double which earned Gillingham victory on Saturday.
Burton was booed from start to finish by the home fans, angry at the 36-year-old's defection from the Millers to local rivals Sheffield Wednesday in 2006 but answered them by scoring both the visitors' goals.
Burton's eventful day also saw him clash with Rotherham skipper Ian Sharps in the opening minutes, which saw the defender depart with a facial injury and then get booked for an innocuous challenge before the break.
Burton, who took his tally to the season to nine goals, said: "You'd have thought they'd have got over it, it was six or seven years ago. I'm old enough not to let it faze me. It didn't bother me in the slightest.
"It does spur you on, you thrive off it. When you get a bit of stick, you want to give a bit back in the right way. Hopefully, I did that with the two goals.
"That's what we got told to do, silence the crowd with our feet and luckily that's what we did."