Youth players Sam Muggleton and Jake Hessenthaler were rewarded for their part in last week's development squad win over Luton by being part of this week's travelling party to Yorkshire.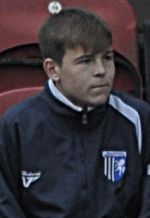 Left-sided player Muggleton was on the bench at Bradford – the second time he has been an unused substitute for the first team – while Hessenthaler was back-up for the 18-man matchday squad.
Gills boss Martin Allen said: "Our reserves played on Tuesday and I went to watch.
"They were losing 2-1 with 20 minutes to go. Muggleton came on as a substitute and they (the Gills) scored three goals, so it was a no-brainer.
"I do watch the young lads and know what they are all doing. The best player in the game was Jake Hessenthaler and I brought him along to experience it and see what it's all about.
"They have been working so hard, they are fit, they are strong and we haven't got that many (senior) players now.
"These players are the future and that's why I take so much interest with them."