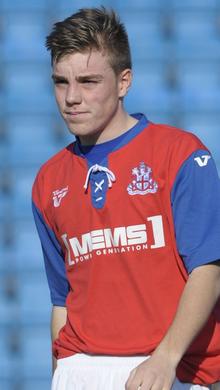 Youth player Aaron Millbank could travel with the Gills first team this weekend after a virus hit the senior squad.
Several players have been laid low with illness and Millbank - who earlier this week was offered a third year scholarship - is set to be called upon.
First team boss Martin Allen has been impressed with the 18-year-old striker (pictured) and on Tuesday afternoon was delighted with his performance, after playing right-back in a development game.
Allen said: "He has been superb over the last few months.
"He has got good shape, size and a good attitude, a good technical ability and he keeps scoring goals.
"We could be taking him to Chesterfield with us on Friday and it would be the first time he has been with the first team.
"He played right-back and that was good for him and it showed what type of player he is.
"He is bright, intelligent and he listens. I think everyone though I was mad when I played him right-back but he played very well."