Gills players were given extra time to rest this week as the club prepare for the game at Preston on Saturday.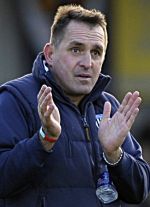 Last weekend's long round trip to Accrington was followed by a couple of days off, on Monday and Tuesday.
And boss Martin Allen (pictured) believes the rest is crucial in keeping his players in top shape.
He said: "We had three games last week and a six hour journey up to Manchester. The conditions in Accrington were testing and the players put in a fantastic effort and they need rest to aid recovery.
"It is an important part of their training and it's recommended by (fitness coach) James Russell.
"They have given everything they've got, playing at a high level of intensity and you have to rest them. Some old fashioned people will say you should get them in training every day but it doesn't always work like that."