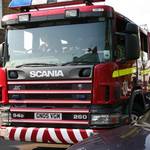 A good neighbour prevented a potentially serious fire last night after hearing a smoke alarm set off by a frying pan left on a hot hob.
Fire crews were called to a third floor flat in Victoria Park, Dover, at 10.13pm.
The neighbour heard the smoke alarm beeping from the flat below, banged on the door and woke one of the occupants.
It is believed his flatmate left the pan on the electric hob, forgetting to turn the heat off before going out.
Dover Watch Manager, Andy Hollands, said: "When we arrived just minutes later, the flat was already full of smoke.
"The neighbour had banged on the door, managing to wake one of the flat's occupants, who immediately switched off the cooker and removed the frying pan from the heat, immersing it in water."
Crews checked to make sure the fire was completely out before ventilating the flat, which was severely smoke damaged.
Mr Hollands added: "This incident highlights the importance of taking extra care in the kitchen and having working smoke alarms on every floor of your home.
"Without them and the neighbour's actions, the fire could have burnt undetected for longer, putting the resident and the property at further risk."