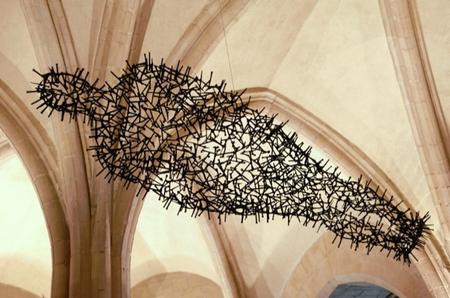 by Gerry Warren
Hundreds of old nails taken from the restoration of Canterbury Cathedral have been transformed into a stunning new work by Angel of the North sculptor Antony Gormley.
The piece is in the form of a body which is suspended as if floating in mid-air in the Cathedral Crypt where the tomb of Thomas Beckett was originally sited.
Gormley, who created the Angel of the North, was at the unveiling for the piece called 'Transport' on Sunday afternoon but Cathedral officials have revealed it has not cost them a penny.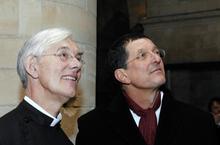 Matthew Butler, chief executive of the Canterbury Gift appeal which is raising money for the restoration work, said: "There were hundreds of old iron nails being taken out from the lead on the roof which were just going to be thrown away.
"Somebody in our office knew a contact of Antony Gormley and when it was suggested he might like to do something with the nails he jumped at the chance."
Mr Gormley said it was rewarding to work with the material which already had a connection with the Cathedral and turn its functional life into an imaginative one."
He added: "We are all the temporary inhabitants of a body. It is our house, instrument and medium.
"Through it, all impressions of the world come and from it all our acts, thoughts and feelings are communicated.
"I hope to have evoked this in the most direct way possible."
The Dean of Canterbury Cathedral, the Very Rev Robert Willis added that it was thrilling to have an Antony Gormley work for which the Cathedral was 'hugely grateful'.
He added: "The sense of passage which the word 'Transport' conveys tunes well with the constant movement of people through this place of prayer and creativity."
What do you think about the new Gormley sculpture? Post your comments in the box below.