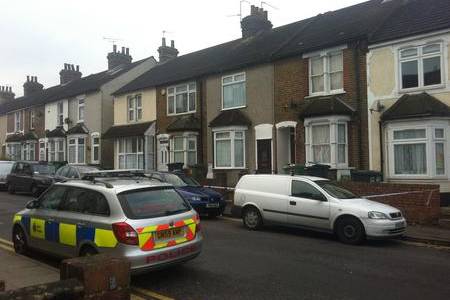 by Thom Morris and Lizzie Massey
Neighbours have spoken of their terror after a gun was fired in Swanscombe when three men forced their way into a house.
Three people were in the terraced home in Church Road when the drama unfolded at just before 5pm yesterday.
Three men wearing hoodies were then seen running from the house.
Kent Police said no one was hurt and officers believe all those involved knew each other.
A spokesman for the force said two people - a man of 25 and 23-year-old woman - in the house when the trio burst in have been arrested on supicion of growing cannabis.
One mother living next door said she had to comfort her children after hearing the gun shot.
Mother-of-three Tina Sibanyoni-Nyathi, who only moved to the road six weeks ago, said: "It was about 4.45pm - it was just after the school run.
"We heard men's voices and then the dog went mad. I felt sorry for the dog.
"I was sitting here with my son watching something on the television and we were about to go out to Scouts.
"We were checking the Christmas lists and we heard this man shouting and the dog and then there was all this banging, pushing and shoving movements against the walls and then the dog went quiet.
"My son was asking if the dog was biting someone. He was scared and he said 'call the police' but I didn't know what was happening and then the gun shot went.
"Because it was right behind the wall I felt as if it was in the room. I had to comfort him. I'm from South Africa so I know what a gun shot sounds like.
"My son is nine-years-old and my daughter was sleeping upstairs and she was too scared to come downstairs. We didn't know what was happening and then we still heard this banging on our walls.
"I lost my brother while he was trying to stop a fight in South Africa so I've learnt to mind my own business."
Another resident of Church Road said there was a heavy armed police response.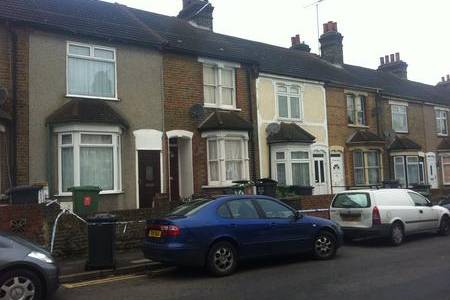 Simon Jones, 45, said: "I saw about three police cars go past my house last night and though 'what on earth is going on?'.
"I was told by a neighbour that there were gun shots coming from one of the houses down the street and when I looked outside I saw the armed response unit with their 4x4 parked outside the property.
"We've had about six police cars outside all night, but nobody I know has been told anything or warned about any further danger."
The ex-serviceman added: "I'm not surprised there's been a firearm incident. Last month, I was threatened by a guy on this road when I told him to control his pit bull and staffy.
"He basically said to mind my own business, not so politely, and then said 'if you don't I'll torch your house and shoot your pets'. Obviously I told the police."
A Kent Police spokesman said: "Officers were called at 5pm on Wednesday, November 28 to a terraced house after a report that three men forcibly entered the property.
"Three people were in the house at the time. No one was hurt when the firearm discharged and three men wearing hoodies were seen running from the house. It's believed that all those involved are known to each other.
"A 25-year-old man and a 23-year-old woman who were in the house at the time were arrested for cultivating cannabis."