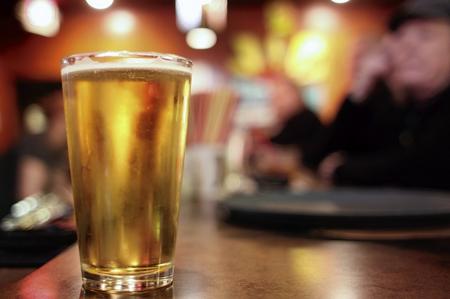 Kent features strongly in the latest edition of the Good Beer Guide, with dozens more of the county's pubs included this year, as well as a number of new independent breweries. David Jones reports.
It's a boom time for small breweries and pub closures have slowed. But a threat is still hanging over them because the government is doing nothing to help.
That's the message to beer lovers in the 40th anniversary edition of the Good Beer Guide, produced by CAMRA, the Campaign for Real Ale.
The growth of independent brewers could be stifled because of crippling taxes which penalise pub beer sales, giving supermarkets an unfair advantage, according to CAMRA.
The 2013 guide, now on sale priced £15.99, features 146 Kent pubs, 42 of which were not included last year.
Writing in the guide's introduction, editor Roger Protz describes the revival of real ale as "nothing short of miraculous." There are now 1,008 breweries in the UK and CAMRA membership has reached more than 140,000 – the highest in the organisation's 42-year history.
Roger says: "While around 12 pubs a week are closing, the rate of closure is slowing. There are encouraging signs that people are returning to pubs, not only to enjoy good beer but also because they recognise them as an important community resource that needs to be recognised."
Roger, who has a worldwide reputation as a champion of real ale, is strongly critical of the government which, he says, has done nothing "to tackle the market-distorting power of the supermarkets."
"When the coalition came to office, it promised to be a pub-friendly government. Yet, like its predecesor, it has done nothing to support the pub."
It was vital, said Roger, that the government introduced measures to control the supermarkets and support pubs. If not, then the real ale revival would hit the buffers.
He warned: "If pub numbers continue to decline, sales of real ale will fall and small breweries without pub estates will inevitably go out of business."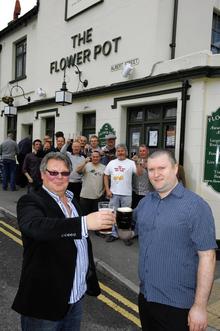 Rockin` all over the local pubs
Microbreweries don't come much more micro than an outbuilding at the back of a bungalow, but that's the "home" of Rockin' Robin, one of the five new independent breweries in Kent.
Robin Smallbone, a quality engineer by trade, started the brewery last October at his home in Loose, Maidstone, with partner, Michelle Gordon.
After 20 years of successful home brewing, he decided it was time to try his hand at commercial brewing, albeit in a small way.
Robin, who works at Delphi Diesel Systems in Gillingham, says: "Engineering skills of varying kinds lend themselves to the brewing industry." Next spring Robin hopes to branch out into new premises.
His draught beers are already proving popular at local festivals and some local pubs, including the Flowerpot in Sandling Road, Maidstone, CAMRA'S Kent regional pub of the year in 2011/12.
Robin's current brews are a 3.7 session bitter called Hoppin' Robin, Mildy Rockin', a dark mild, and Reliant Robin best bitter.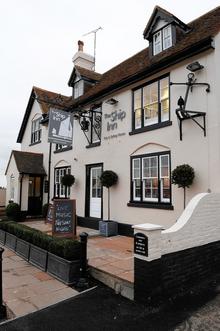 Ship sails into the guide
The fall and rise of the Ship Inn at Conyer is a classic story of a pub being rescued after it found itself in stormy waters.
The pub, between Sittingbourne and Faversham, was once an institution, but fell on hard times when the previous licensees called it a day in the tough economic climate.
But then Simon Smedley, boss of Swale Marina, just across the picturesque creek, stepped in late 2010 and bought the 18th century building from the Enterprise Inns pub chain.
"I am a housebuilder by trade," says Simon. " I had never been involved with a pub before, but I wanted to save it for the community."
After extensive refurbishment, the Ship Inn is open again and transformed into a vibrant gastropub – but Simon has been careful about the degree of change, so as not to alienate locals who might baulk at too much "change".
Beers on sale include a brew from the Old Dairy brewery at Rolvenden, Shepherd Neame ales, and Adnams.
Food is high on Simon's agenda.
"It crucial to the success of any pub these days," he says. "Food and drink are about 50/50 here."
The Ship Inn's reputation has been re-born and is spreading fast. Customers come from all over Kent and as far afield as London.
Simon said:"We are obviously pleased to be included in the Good Beer Guide for the first time under our ownership."
Swap hops for apples
If cider rather than beer is your favourite tipple, you'd better head for the Brogdale Cider Festival this weekend. It is packed with activities and provides a great atmosphere to sample some of the local specialities, including Brogdale's own, made with the fruit from their orchards.
Some of the activities include artisan cider-making demonstrations for those wishing to try their hand at home, tastings, orchard tours, vintage and craft stalls and live performances from local bands. Children will also be entertained with craft and kite displays in the kid's corner, treasure hunts, meet the animals and storytelling.
The festival is at Brogdale Farm, Brogdale Road, Faversham, on Saturday, September 22 and Sunday, September 23.
More info at www.brogdale-collections.co.uk or call 01795 536250. Admission is £7, under 15s £3 and family tickets (2+2) £18.
New to the guide
There are 42 Kent pubs that are new to the Good Beer Guide this year:
Birling: Nevill Bull
Canterbury: Foundry Brew Pub, Bottle Shop
Conyer: Ship Inn
Dartford: Ivy Leaf, Paper Moon
Deal: Just Reproach, Prince Albert, Dunkerley's
Dover: Red Lion, White Horse
Eastry: Five Bells
East Brabourne: Five Bells Inn
Elham: King's Arms
Fairseat: Vigo Inn
Faversham: Bear Inn
Fawkham Green: Rising Sun
Gravesend: Crown and Thistle
Laddingford: Chequers
Halstead: Cock Inn
Maidstone: Dog and Gun
Margate: Mechanical Elephant
Northfleet: Earl Grey
Penshurst: Spotted Dog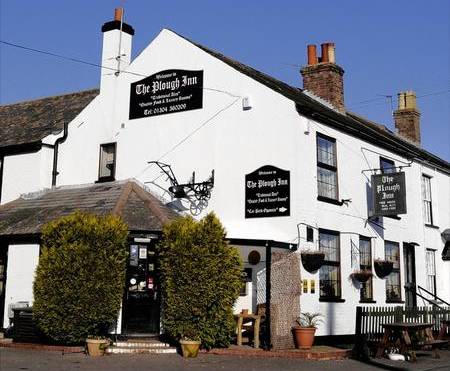 Ripple: Plough Inn
Rainham: Three Sisters
Ramsgate: Great Tree, Conqueror Alehouse
Rochester: Who'd Ha' Thought It, Two Brewers
Sandwich: Crispin Inn, George and Dragon
Sevenoaks: Chequers
Sittingbourne: Long Hop
Teynham: Swan
Tunbridge Wells: Bedford, Ragged Trousers
Westgate-on-Sea: Bake and Alehouse
Whitstable: Pearson's Arms
Wickhambreaux: Rose Inn
Woodchurch: Six Bells
Wormshill: Blacksmith's Arms
New independents
Kent has 25 independent breweries, five of which are new.
They are: Hope Fuzz (West Hythe); Goody (Herne); Ripple Steam (Sutton); Tir Dha Ghlascorr (Dover); Rockin' Robin (Maidstone).