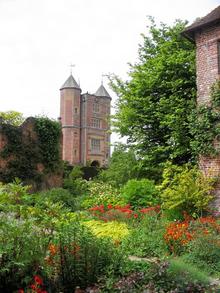 It is one of the world's most famous gardens that has inspired imitations across the globe.
Now the job of keeping the grounds of Sissinghurst Castle up to scratch is up for grabs.
The National Trust is looking for a head gardener to replace Alexis Datta, who is retiring after 22 years at the estate in Biddenden Road, near Cranbrook.
One of the key roles in British gardening will involve maintining the garden's grid of "rooms" and striking borders.
Attracting a £35,000-a-year salary, the successful applicant will show "an impressively broad knowledge of plants" and a "natural flair for aesthetic flower garden design".
The job advert reads: "Sissinghurst garden and estate is a haven away from the world, a place where over many centuries many people have created a richly layered beauty.
"The garden is arguably the most popular and influential in the world; created by Vita Sackville-West and Harold Nicolson in the 1930s, it draws on that sense of embedded time and on the thousand-year-old landscape that surrounds it.
"It is a refuge dedicated to beauty, a poetic vision that reflects the marriage of sensibilities, the classic and romantic, profusion and exactness. "Your challenge, and the incredible opportunity that goes with it, is to interpret and develop this garden into its next phase."
Sissinghurst Castle - the ruin of an Elizabethan manor house - was once a prison to captured French seamen during the Seven Years War, a poor house and then a working farm.
It gained international fame in the 1930s when Vita Sackville-West and Harold Nicolson created a garden divided into "rooms".
The new head gardener will have a team of six plus a group of more than 20 volunteers.
For more information about the vacancy, which closes on Friday, December 21, visit nationaltrustjobs.org.uk.